Awesome Packing Tips & Tricks for Your First Alaska Cruise
There are some affiliate links below, but they are all products I highly recommend. For more info, view my disclosure here.
The excitement of finally booking your dream Alaska cruise is the best, isn't it? Once the cruise is booked comes the planning and packing stage.
But how do you know what to pack for Alaska cruise vacations if you haven't been to Alaska before?
After moving to Alaska, I quickly realized it has the craziest weather I've ever experienced. And I grew up in Florida, home of random afternoon thunderstorms and hurricanes!
There are ways to pack for your cruise and be prepared for any weather situation without going over the airline's luggage weight limit. Read on for our Alaskan cruise packing list of items to bring on your cruise, plus some Alaska cruise tips!
Which Month Should I Take an Alaskan Cruise?
The best month for Alaska cruise vacations actually varies depending on your preferences. Alaska cruise season runs from May to September. June, July, and August are typically the most popular months.
May and September are referred to as the shoulder season. They often have cheaper prices, but tend to be rainier and less warm.
If you're looking to save some money on your Alaskan cruise, May and September would be the best way to accomplish that. While the weather can be wetter and cooler, that doesn't mean it definitely will be!
We cruised in September last year, and I definitely booked it for that month since I'm pretty thrifty! We got exceptionally lucky and the weather was beautiful the entire cruise, but we had prepared for rain just in case.
If you want the best chances of warm weather during your cruise, plan for June, July, or August. The prices will be a little spendier since it's peak season, but you have a better shot of getting warm sunshine.
It's certainly not easy to afford to cruise as much as we want. Here are tips to save money on cruise vacations both before and onboard!
What's the Weather Like on Alaska Cruises?
Even though May and September are typically the coolest and rainiest, all months have the potential to be quite damp and chilly. Alternatively, they can also be unbelievably warm!
Many spots in Alaska can reach over 80°F. And I feel like no one believes me when I tell them this, but 80 in Alaska actually feels WAY hotter than 80 in Florida, for example!
Ketchikan, Alaska is one of the most popular cruise ports. It's also one of the rainiest. On average, Ketchikan gets over 140 inches of rain each year. In fact, some form of precipitation falls 234 days a year!
That's why it's key to be prepared. Even if it does rain on your vacation, you'll still have an amazing time if you're dressed appropriately so you aren't miserably wet!
What to Wear on an Alaskan Cruise
Figuring out what to wear on your Alaska cruise can be super confusing. Here's our suggestions to be covered no matter what the weather is like.
Layers, Layers, Layers
So basically every Alaska packing list says to wear layers. But what does that even mean? And doesn't that make you feel bulky? Not necessarily!
Thin layers add up to nice levels of warmth, while allowing flexibility to remove a layer or two if warms up outside. On particularly brisk days, wear a thin undershirt like this one.
Synthetic fabrics will keep you warmer while also whisking away moisture.
Add a long sleeve shirt on top, and a packable vest that you can take off and store if it warms up. If a jacket is needed, go for it.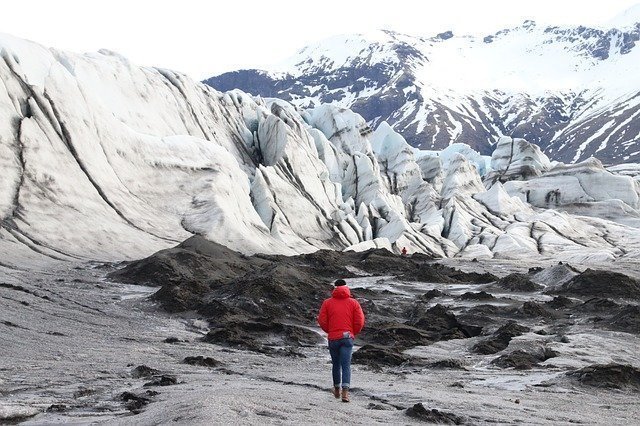 A Windbreaker
A good quality wind breaker is essential to bring on any Alaska trip, especially a cruise. Those days sailing by icebergs and glaciers get quite gusty and cold!
Make it a waterproof one with a wide hood and you'll be protected from rain during port days as well.
A Rain Poncho or Umbrella
If you don't feel like carrying around your waterproof jacket on port days, make sure you toss a cheap rain poncho or umbrella into your port bag. We brought a pack like this so we each had one just in case!
Cozy Clothes for Relaxing
A favorite sweatshirt and comfy pair of leggings is a must for relaxing on your cruise. You want to be warm and snuggly to make the most out of your relaxing time onboard.
I swear, I'm practically addicted to adorable fuzzy socks! This is totally a non-essential item, so if you're cutting it close on space, feel free to skip this one.
It does make for a fun little treat while lounging on the balcony with a warm cup of coffee..or a pizza! I mean, just check out how cute these little polar bear socks are! I got mine at Target, but here's a similar pair on Amazon.
Pack The Essential Tech Gear
If there's one item I won't travel without, it's my backup battery pack. I take so many pictures my phone seems to die much quicker than normal. This Anker battery pack can charge my iPhone around 4 times.
Binoculars are basically essential for Alaska cruises. There's nothing like scoping out whales off the side of the ship! We brought these binoculars on our cruise and they worked great!
I also highly recommend bringing a good quality camera on your trip. Cell phones can take decent quick photos, but a high-quality DSLR camera will help you have gorgeous photos to remember your cruise!
I researched like crazy to pick the best camera for traveling. The Nikon D3500 has the longest battery life at around 1500 shots taken. It's also one of the more compact DSLR cameras and is nice and light.
My favorite feature of the D3500 is the Guide Mode. It helps you take great photos without having to manually adjust the shutter speed and aperture. If those terms are confusing, don't worry, the guide mode manages all that for you.
It's great to learn how to shoot manually for optimal control over how your photos turn out, but it can be a little overwhelming. The guide mode makes sure you can take fantastic photos right out of the box.
Bring a Few Summer Clothes
While you're preparing to stay warm, you'll also want to make sure you're covered for days that are much hotter than you expect. Pack a t-shirt and some shorts just in case summer weather decides to make an appearance!
A Few Nice Dinner Outfits
Alaska in general tends to be very laid back and casual, and that extends to cruise line attire. We noticed much less formality on our cruise.
While people looked nice and still dressed up, it's not necessary to haul the fancy formal dresses and tuxes unless you absolutely want to.
And if you do, awesome! Rock that formal wear! If you want to go easy on the fancy clothes and save that luggage space for hiking boots, go for it.
My bestie has preached the benefits of a LBD (little black dress) to me for YEARS. I resisted as I prefer colorful dresses.
Until I wore this simple yet gorgeous black dress for a wedding, and it's perfect for cruising. I packed it in my bag and when I arrived for the wedding, it was perfect and wrinkle-free.
A few different accessories, such as a dressy scarf or a glitzy wide belt and you have a completely different look if you want to wear it more than once. Plus, it's super affordable & comes in a bunch of other colors too!
Comfy, Pretty Flats
Cruises can be a little rocky when sailing the ocean, and Alaska cruises are no exception. Maybe it's just me, but I'm basically a baby moose when I wear heels.
Add the rocking motion of the boat and I should just basically crawl everywhere to be safe! Cute flats are a perfect way to look great while keeping your balance.
Tieks ballet flats are perfect for cruising since they fold up nice and small. They have incredible reviews for being super comfy and pretty!
Waterproof Hiking Boots
A good quality pair of hiking boots will keep your feet warm and dry. If you want to look like a true Alaskan, grab a pair of Xtratufs! They're a bit bulky though, so you may want to wear them on the plane to save luggage space.
Packable Backpack
This backpack is perfect for traveling, and especially so in Alaska! If it warms up, you're going to take off a layer or two. Running back to the ship to drop off your extra clothes is inconvenient. With this bag you can unpack it, stow your stuff and keep going on your adventures!
Bathing Suits
There's nothing better than warming up in a hot tub after a long, busy day of hiking and exploring. Bringing a bathing suit will let you soak away your worries and aches.
All The Accessories
Accessories go a long way to making you comfortable with the cooler weather. A hat and gloves will keep your head and fingers toasty.
The summer sun in Alaska can be pretty brutal. While it's not quite the midnight sun, which is 24 hours of daylight and happens much further north closer to the Arctic Circle, the days are still unbelievably long and bright.
In Skagway, Alaska they receive 18 hours and 39 minutes of daylight on summer solstice, the longest day of the year.
Don't forget to bring sunscreen and sunglasses!
If you're taking an Alaskan cruise, which ports are you visiting? Share below and pin this for later!