How To Drive All Through Denali During The Denali Road Lottery
There are some affiliate links below, but they are all products I highly recommend. For more info, view my disclosure here.
One thing many people don't realize about Alaska is how absolutely MASSIVE it is! It's truly enormous. From north to south, Alaska is 1400 miles long.
That's about the distance from Miami to Massachusetts! There's virtually no way to see it all, but we try to head out for road trips as often as possible.
That's why, when we found out we were selected in the Denali Road Lottery to drive our personal vehicle all the way to the end of Denali's park road that ends in Kantishna, we didn't hesitate! Read on to learn more about our road trip!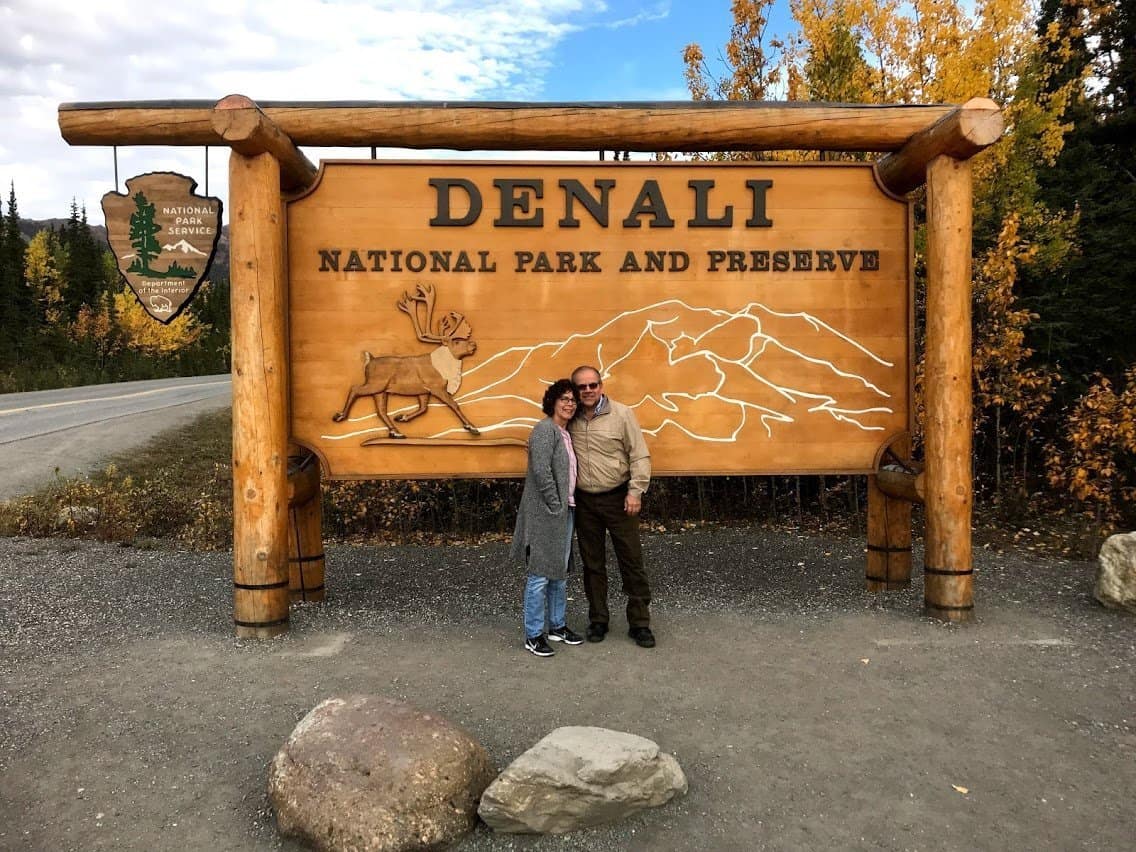 What and Where is Denali?
Denali is the highest mountain peak in North America, and has an elevation of 20,310 feet above sea level. The name Denali is Athabascan, and is thought to mean either "The Great One" or "The Tall One".
It's located inside Denali National Park and Preserve, which encompasses over 6 MILLION acres. Told ya everything is big in Alaska! There's tons of wildlife in the park, including bears, wolves, and moose.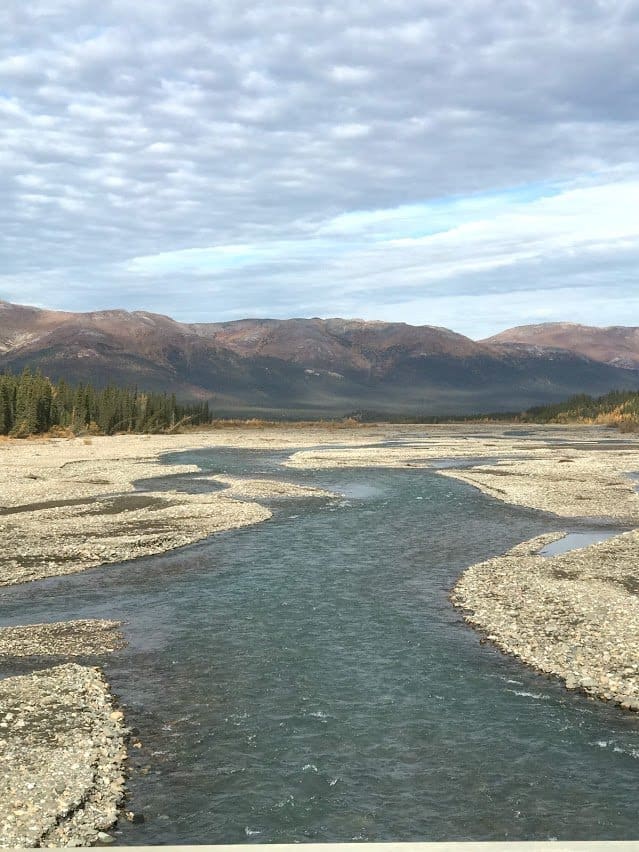 What's the Denali Road Lottery?
Typically, the main way visitors get to see Denali is from tour buses. Personal vehicles were allowed in the mid-1980s, but the park was receiving up to 2,000 vehicles a day. It wasn't sustainable to handle that many visitors, and was a danger to wildlife, so the Denali Road Lottery Permit system was implemented.
Every September, the National Park Service holds a 5-day event, the Denali Road Lottery, to allow permit holders access to the end of the road, 92.5 miles down, all the way in Kantishna, Alaska.
Only 400 vehicles a day are selected, so we felt pretty lucky to have been chosen! In fact, we were vacationing with my parents and even convinced them to change the date on their return trip home so they could see it too.
Plus, access is completely dependent on the weather and has been known to close due to snow. We were lucky and had warm, sunny temperatures.
Spending some time in southcentral Alaska? Make sure you stop by Palmer, Alaska! Click here for some of our favorite things to do!
How To Enter the Denali Road Lottery
The road lottery entry period varies each year. The 2018 lottery application period was May 1—May 31, 2018, so future years should be around the same timeframe.
To enter, simply visit Recreation.gov during the entry period and pay the (currently $15) non-refundable application fee. At this time, you select your preferred visit date.
Anyone can apply as long as they pay the application fee. So if you're planning to make this a highlight of your trip, maximize your chances by entering as many people as you like.
The winning tickets are transferable. If you have someone win that ends up not being able to travel with you, bring a copy of the original winning email and a short note from the winner explaining the transfer of the permit to you.
Winners will be drawn in June. In general, the odds of winning come out to about 1 in 7. Not too shabby! If you're selected, you then pay a $25 road permit fee, and then an entrance fee of $10 per person on the day of your visit.
They also offer 400 passes to the local military bases for distribution, which is how we received ours. If you're stationed at one of the military bases here in Alaska, keep an eye out for details on these!
All entrants are notified via email if they won or not, so monitor your spam folder just in case!
What Should I Do To Prepare for Denali?
Planning is key for a successful trip, so we made sure to stock up on essentials. We packed a cooler full of drinks and snacks for us humans. We also brought plenty of food, water, poop bags, and leashes for our dogs.
In addition to food and drinks, we made sure our emergency kit was fully stocked. The spare tire was checked over, a portable air compressor was tucked away, and our toolkit and emergency flares were loaded up.
If you have a large truck or other vehicle that's not quite fuel-efficient, you'll want to bring some extra gas. I also packed some towels, window wipes, and Windex. It may sound a little extra, but since Denali is so very remote, it's better to be safe!
Luckily we didn't need much besides the Windex and wipes as the roads were extremely dusty. We lost track of how many vehicles with flat tires we saw, and I was grateful to have taken some precautions just in case.
If you have a rental car, verify with the rental agency to see if you can drive their rental car in Denali. Many agencies have road restrictions here in Alaska due to the remoteness and how rough some roads can be, so it's best to make sure before heading out.
The Day Of Our Denali Trip
After a good breakfast for us, we set out on the road nice and early at 6:30am. The town we live in, Palmer, is a few hours away from Denali National Park. Once the sun rose, it was incredible to see Denali from the highway and it only got better as we moved closer.
Only around 30% of visitors actually get to SEE Denali due to weather, so we were especially thankful! We stopped for gas in Cantwell, the last town with a gas station, before turning on Park Road. You're definitely going to need to stop here to top-up, just in case.
After a quick photo op at the sign, we stopped at the Visitor Center to grab our pass and head down the road!
Along the way, we saw a few bears, birds, marmot (ground squirrels) and magpies. We didn't get lucky with moose this time, but my parents will be back next winter so hopefully they get to see a moose for the first time then! Along the way, we stopped for tons of photos. Denali is always gorgeous, but seeing it in the fall is especially breathtaking!
Polychrome Pass, a winding, narrow cliff-side road, was a bit intimidating, but we handled it well. Around 5 hours after entering the park, we finally made it to the end of the road! We then started the trip back home. It was a long, long day, but it was completely incredible and absolutely worth it!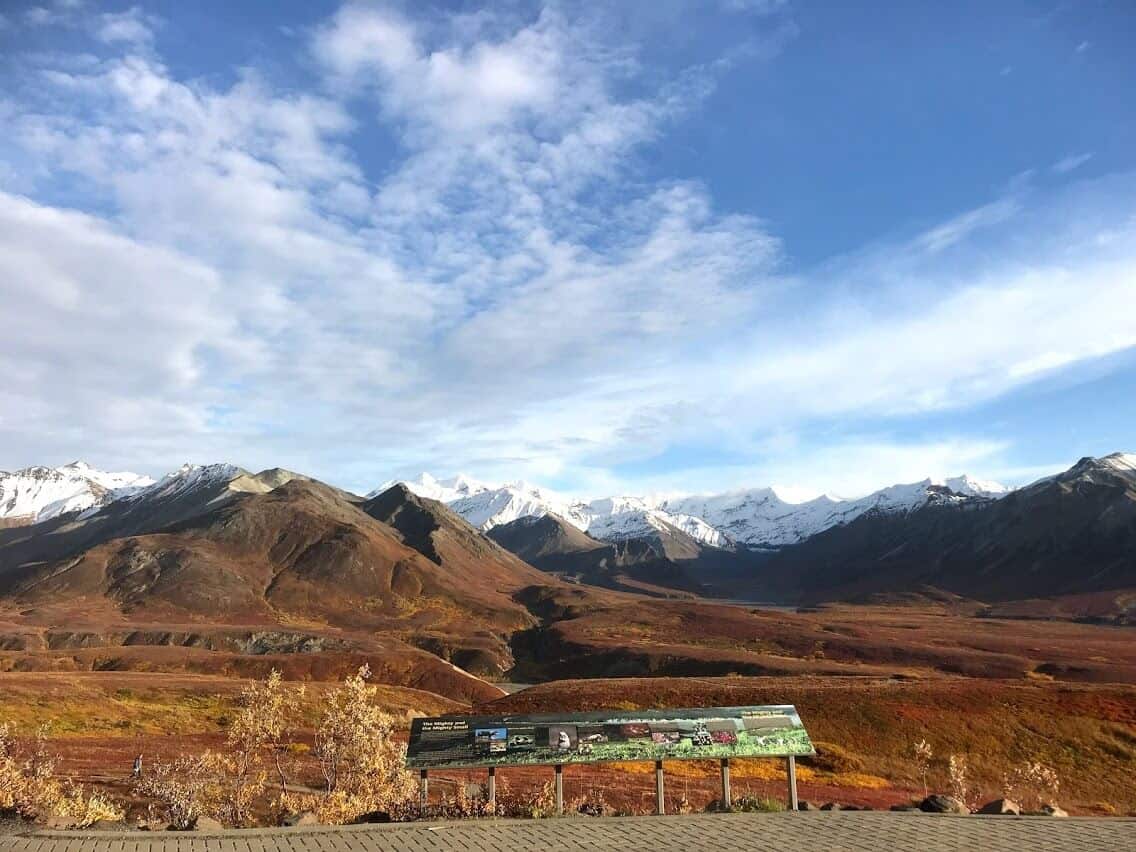 Would I Do Anything Different?
If we were chosen in the Denali Road Lottery again, next time I would opt to stay overnight. There are plenty of options both inside the park and out.
We would probably bring a tent and camp at a nearby campground. Another option would be to stay at one of the lodges there. They can be fairly expensive, and we had our dogs with us so we'd planned it to be a day trip. And what a loooong day trip it was!
It took us about 20 hours on the road to make it there and back. It was absolutely worth it, but we were all dead potatoes the next day! The views we got to enjoy more than made up for the exhaustion, at least, and I can't wait to visit Denali again!
Have you gotten to see Denali on an Alaska trip? Comment below and let us know!