Must Do Kid-Friendly Hikes in the Shenandoah Valley
There are some affiliate links below, but they are all products I highly recommend. For more info, view my disclosure here.
Taking your kids on a hike is one easy way to get them active and moving, plus nature serves as free entertainment! Kid-friendly hikes, to me, are hikes that ideal for kids under the age of 9 and don't require much skill set.
Many of the kid-friendly hikes in the Shenandoah Valley, even have paved trails that are stroller-friendly. Looking to hit a few spots in one day? Need something to do that will burn 90 minutes of time and energy?
Check out these recommendations, many of them are close in proximity along the Massanutten Mountain ridge.
Storybook Trail
This was the first place we went to the day after moving to Virginia and the only word I have to describe the view is, wow.
After driving along the winding mountain road, there's a dirt pull-off parking area and a paved pathway, Storybook Trail, which leads to the scenic overlook. I guess Virginia wanted to welcome us with the most enchanting view, because as soon as we got to the overlook, there was a rainbow that stretched over the valley. My friend said she's been here dozens of times and never has seen a rainbow.
You don't need much for this short walk unless you plan to venture further on longer trails that are around.
Lions Tale Trail
If you keep driving past Storybook Trail's parking area, you'll continue through the George Washington National Forrest. This drive is usually quiet and the trees are just purely majestic, especially after a rainfall and/or it's foggy out.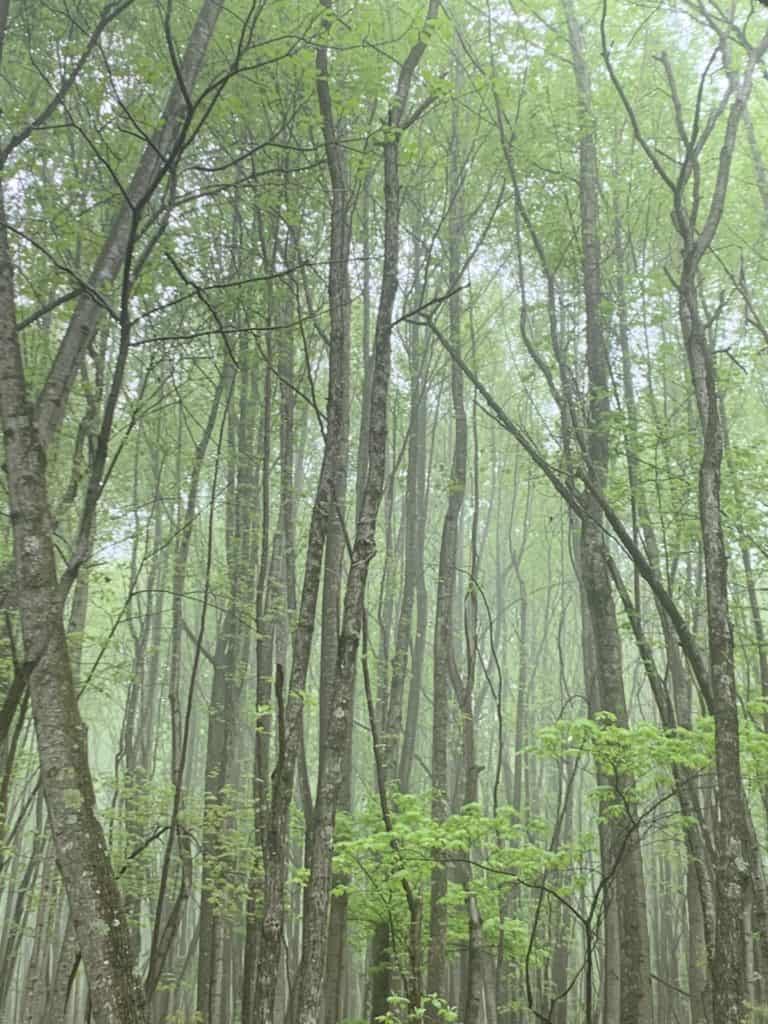 Lions Tale Trail is at the end of this road and is another trail that's great for kids and is stroller-friendly. Lions Tale Trail doesn't lead you to a scenic overlook, but to the coolest creek that kids love to play in! My youngest daughter requests to go here, simply to play in the creek. She brings her Barbies and lets them go down little rapids as if they were waterslides.
Spray some bug spray with Deet before you go! I suggest water shoes as well because there are rocks and pebbles in the creek that can be rough on the feet.
Woodstock Tower
If you're at Lions Tale Trail, you might as well head to Woodstock Tower next as you're not too far from it!
Woodstock Tower was built in 1935 and offers views of the Seven Bends in the North Fork of the Shenandoah River.
The trail to the tower isn't stroller friendly but is a short hike on easy terrain. The stairs are fairly steep, so be mindful of each step.
There are trails that go off of the main short trail to the tower, which we started to explore but really, no one in my family had the proper shoes on for this trail. It's very rocky and steep at times.
Mountain Run Swimming Hole (Fridley Gap trail)
Fridley Gap trail is not for the faint of heart as it's a 1,860 ft elevation gain and about a 5-hour hike. But we're not suggesting this full hike for kids, instead, you'll only hike about a half-mile until you reach the coolest little spot, called Mountain Run Swimming Hole.

The rock falls pond is a perfect place for a cool dip on a hot day. We've hiked with kids as young as 2.5 who have been able to complete this with a little assistance though it can get rocky in some areas.
Be sure to bring water shoes, towels, water, and snacks!

Things to Remember
Brush up and follow the 7 Leave No Trace Principles
Bring the 10 Hiking Essentials on every hike, preparedness is key.
Download and use the AllTrails app. Often times the GPS on your phone won't give you correct coordinates or will take you off trail.
Take a picture of the map trail and key at the start of each trail in case you get lost.
What are some of your favorite kid-friendly hikes in the Shenandoah Valley that didn't make this list? Share them with us.
Need more? Check out these kid-friendly adventures.
Hi, I'm Lauren!
I'm a mama, a collector of crystals, a beach fanatic, and an adventure seeker! After a decade of living in Florida, my family now calls the Shenandoah Valley of Virginia 'home'.