Best Nature Spots in Palm Bay, Florida
There are some affiliate links below, but they are all products I highly recommend. For more info, view my disclosure here.
Looking for the best nature spots in Palm Bay?
My family relocated from Maryland to Palm Bay, Florida about 10 years ago. Of course, when we first moved here, going to the beach was our main priority. After some time we craved more, which led us to exploring the 'other' parts of Palm Bay and Florida.
Palm Bay, Florida is the 2nd largest city in Central Florida (Orlando being the first), but at its heart – it's more country than city.
Nestled in the town are locations that I'd consider to be nature's gems. You know, the kind that takes your breath away. Some of these locations are tucked away and aren't easy to stumble across unless you're looking for them or like to endlessly explore (like me).
Dare to adventure the southernmost city on the Space Coast? Here are the Best Nature Spots in Palm Bay, Florida!
Turkey Creek Sanctuary
It's rarely a dull day at Turkey Creek! One year, my dad and step-mom were visiting and we saw a coral snake, a momma gator and her babies, multiple gopher tortoises, a baby water turtle, and manatees.
Now, I've walked the trails and boardwalk of turkey creek more than 30 times and this is the most I've seen in one visit. However, It's unlikely to have a day where wildlife isn't active.
This stroller-friendly destination is perfect in the early morning or evening when the humidity isn't so terrible. Take a stroll around the boardwalk pathway and enjoy the scenic overlooks or launch your kayak and explore by water! If you're looking for a running trail, you can find that here, too.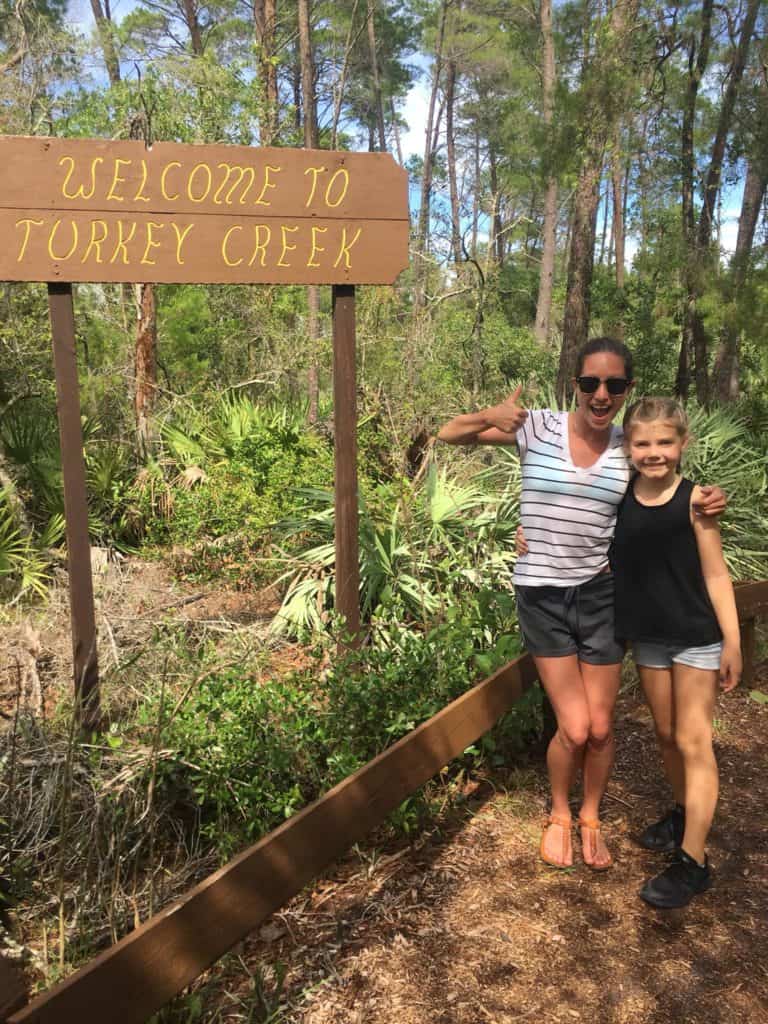 Turkey Creek Sanctuary also has the on-site Margaret Hames Nature Center, which offers a gift shop, tours, information and a small activity area for kids. My girls loved exploring the activity-filled center and I enjoyed reading about the wildlife around me. Be mindful of the center's hours, as they vary from the trail.
This trail is ADA accessible
Castaways Point Park
The scenic lagoon at Castaways Point Park sits where Turkey Creek meets the Indian River. Equipped with a small walkway and two long docks, you'll often spot dolphin pods, manatees, and of course, pelicans.
There are bathrooms here and a few tables if you'd like to picnic. Don't forget your fishing pole either, but be sure to follow Florida Fish and Wildlife guidelines and laws.
Please note that the city of Palm Bay has talked about building a restaurant-filled pier in the lagoon more recently. This would no doubt impact the wildlife and the scenic beauty.
Keep this in mind and be sure to visit sooner rather than later!
Three Forks Marsh Conservation Area
When we first found the Three Forks Marsh, it wasn't on purpose and was more like a delightful accident. The marsh has beautiful wetlands on the east and untouched land for miles to the west. Not to mention almost 70 miles of trails. Nature is abundant with the sounds of frogs, jumping fish, chirping birds, and even the occasional gator.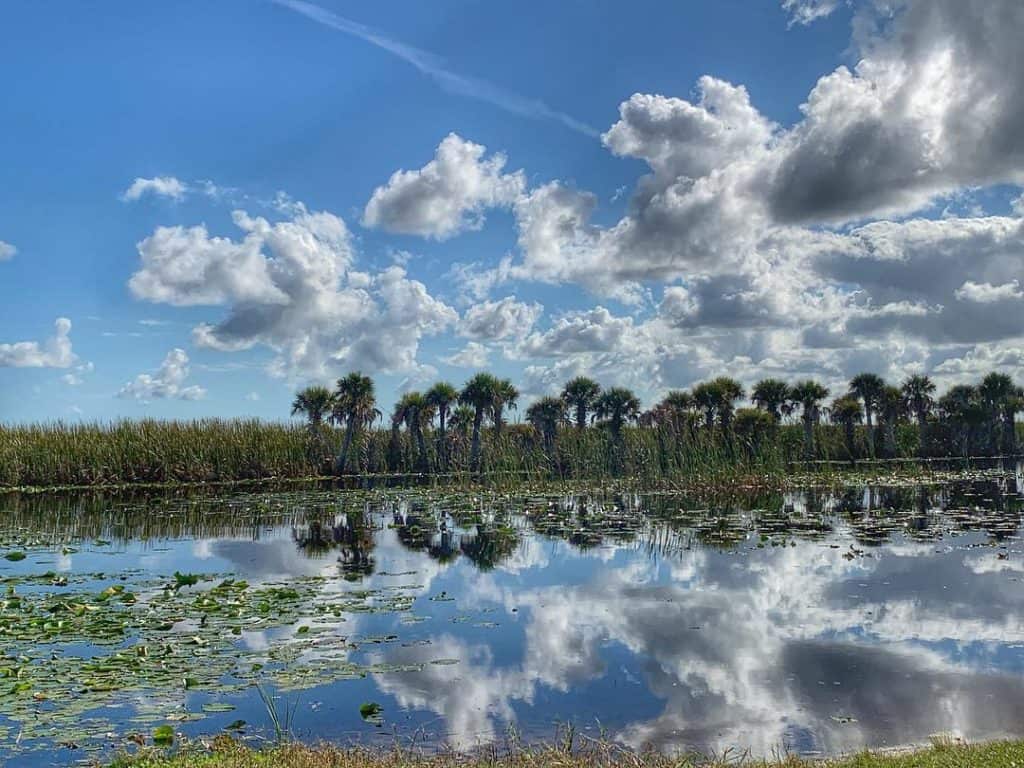 When we first began coming to this spot, almost no one came here. Now, it's a more well-known spot where airboats tours depart and sunset seekers are found.
Oh, and the sunsets?
The BEST sunsets in all of Palm Bay are found here. I've captured some of the most epic pictures of myself, my family, and the breathtaking scenery.
It's fair to say Palm Bay isn't the same town it was 10 years ago, but like most things, it's not immune to change. As the population increases, I hope the citizens fight to keep certain awe-inspiring locations untouched.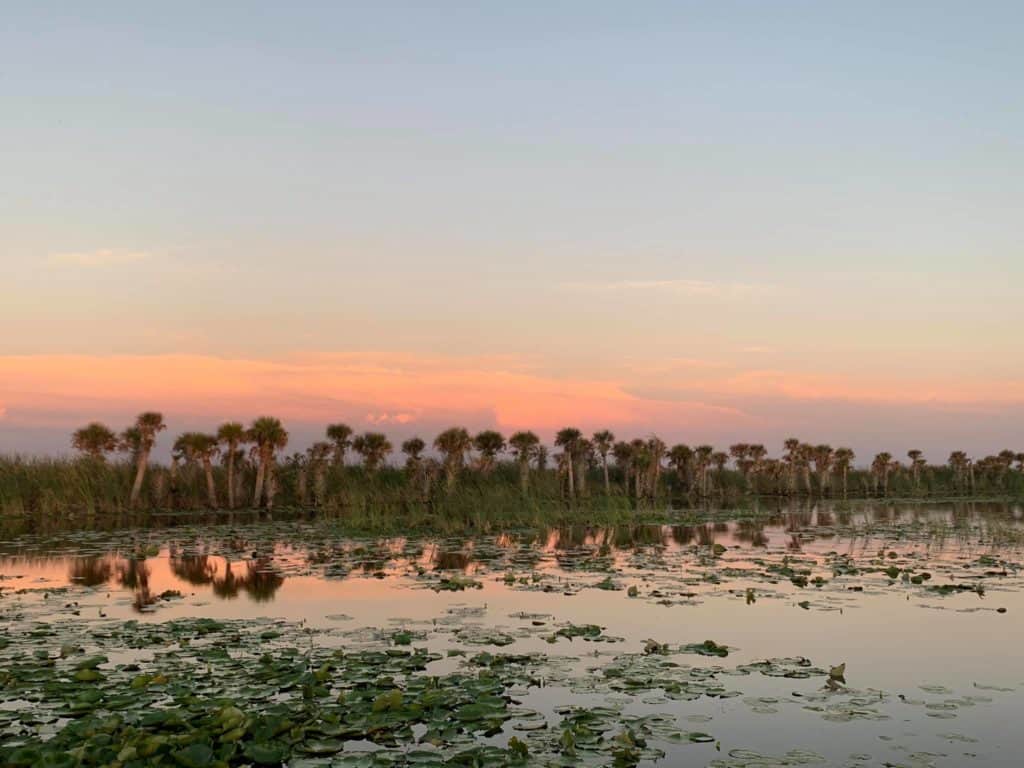 These 3 nature spots are deeply adored by not only myself, but my entire family and many of the loved ones who have come to visit us.
I hope you take some time to explore the best nature spots in Palm Bay, Florida!
Looking for more Florida fun? Check out these day trip ideas!