Fun and Free Things To Do in Los Angeles
There are some affiliate links below, but they are all products I highly recommend. For more info, view my disclosure here.
From breezy palm trees to the classic Hollywood sign, Los Angeles is THE place to see and be seen. When my cousin/co-writer Brianna Jade started working in LA for the summer, I was super stoked to visit and cross it off my bucket list!
While I'm generally up for splurging on some treats and fun activities, I'm all about traveling on a budget and finding things to do in Los Angeles for free. Read on for our tips on the best free things to do in LA!
How to Get Around Los Angeles
For my first trip to LA, one thing that surprised me was how sprawling the city actually is! We live in a small town in Alaska, so pretty much everything is busier than there. But Los Angeles was a world of difference!
Luckily, there are tons of ways to get around the city. You can stay in a walkable part of town to have easy access to cafes, coffee shops, and delicious restaurants.
If you're staying in an Airbnb, like we did, you can see if the owner offers bikes as an amenity. That will let you explore a little further and faster than you can on foot.
You can't make the most of your LA experience by exploring solely in one area. Los Angeles public transportation is cheap and can get you near where you need to be.
Google Maps has added public transportation routes and details, making it super easy to get around.
For those places without convenient access to public transit, there's always Uber or Lyft.
If you're planning to explore further away from your base, you can always get a rental car. Keep in mind that parking is quite expensive and a bit difficult to find in many parts of the city.
Some hotels and home rentals do have free parking, though. If you're planning on a rental car, adjust your search to find a place to stay that includes free parking and save some money.
The upside of having a rental car is having a place to store your stuff that's relatively safe.
We were often gone for 12+ hours, and had to carry jackets with us most of the day so we'd have them once things cooled off in the evening. Well, everyone except this Alaska girl, that is!
Need some tips on finding the cheapest flights to Los Angeles? See these tips to save money on flights!
What The Weather Is Like in Los Angeles
If you plan on attending Los Angeles in the month of June, plan for something called "June Gloom." Smog covers the streets in the morning, making it actually kind of chilly.
I personally had never known LA had such a thing, since trendy Instagram posts lead you to believe it is hot, sunny, and gorgeous all the time. 
This is something I wish I would have known before I brought only summer clothes! Definitely plan on bringing a light jacket for those chilly mornings.
We found the best beach time is mid-afternoon, which was a world of difference for these Florida girls!
We're used to getting to the beach early so the afternoon heat doesn't absolutely broil us to death.
With the thick marine layer cloud cover, LA is completely opposite. The mornings tend to be gray and overcast, but once that burns off in the afternoons, sunshine and blue skies abound.
Evenings can also get a bit cool, so be prepared with that light jacket or windbreaker just in case.
Visit Griffith Observatory in Griffith Park
Griffith Observatory is seriously beautiful. If you're down for exercise, you can actually hike up it. As you approach it from below, the white building looks like it is out of the movie Aladdin. It's beautiful!
Although the hike is very scenic, it is definitely not for everyone, especially if you want to take cute pictures at the top with the iconic Hollywood sign.
Luckily, there are also options to take a bus up to Griffith Observatory. Side note for pictures — go on a day with less smog.
This will ensure your pic with the Hollywood sign comes out crystal clear, unlike my sad sunset attempt below!
The observatory was at the top of this space geek's list of the best things to do in Los Angeles. There is so much to see and learn about the stars! There were telescopes set up outside positioned so we could catch a glimpse of Jupiter.
Once you get inside, you'll see the impressive Foucault Pendulum, which has been in place since the observatory opened in 1935. The pendulum gently swings to demonstrate Earth's rotation beneath it.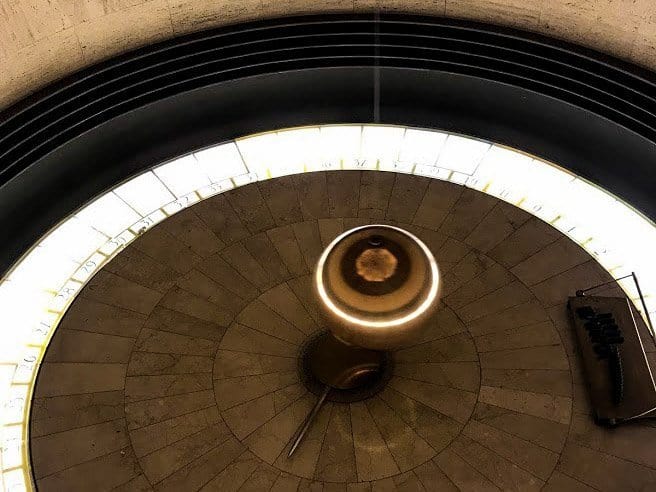 In addition to the pendulum, there are tons of other exhibits to explore. From seeing actual meteorite to the display of periodic elements, you'll have fun and learn some new facts, too!
Catch a Game Show or Live Taping
Growing up, my favorite sick day activity was catching The Price Is Right on TV. It made being sick actually worth it! Catching a filming of the show is still on my bucket list. 
While you're in LA, try being part of a live TV taping. Or even better, try to be a contestant! Who knows, maybe you'll even get your 15 minutes of fame and win some dough! Here's the list of show filming schedules.
Sip Some Wine in Los Angeles
San Antonio Winery is right in Downtown Los Angeles and offers free daily tours to learn about the history of winemaking.
The tours run around 30-40 minutes or so, and you'll get to sample a few of their wines from vineyards across the state.
Hit Up a Local Farmer's Market
I've always said the best way to get a true feel for a place is to visit a local farmer's market. You'll have plenty to choose from in LA! Here's a list of farmer's markets broken down by neighborhood.
Zen Out at Self-Realization Fellowship Lake Shrine 
If you're needing some down time to chill, the Lake Shrine looks AMAZING! Located well outside the hustle and bustle of Los Angeles, this temple, shrine, and a meditation garden delivers a quiet oasis for meditation. All are welcome. 
Visit The Getty Center
For a solid dose of culture, add The Getty Center to your list. The J. Paul Getty Museum is a free museum contains inspiring works from all different eras. 
The base of the Getty Center has a free tram that takes you uphill to The J. Paul Getty Museum. It tends to have quite the long wait, however. 
There are also buses you can take, or the museum provides umbrellas if you want to walk up, like we did. The umbrellas definitely helped cut down on the heat from the sun, and we felt quite fancy!
Be prepared to spend a serious amount of time here to get through it all! We meandered through all of the rooms and it took us a couple hours just in one of the pavilions. The architecture is incredible and Brie reached peak LA status here.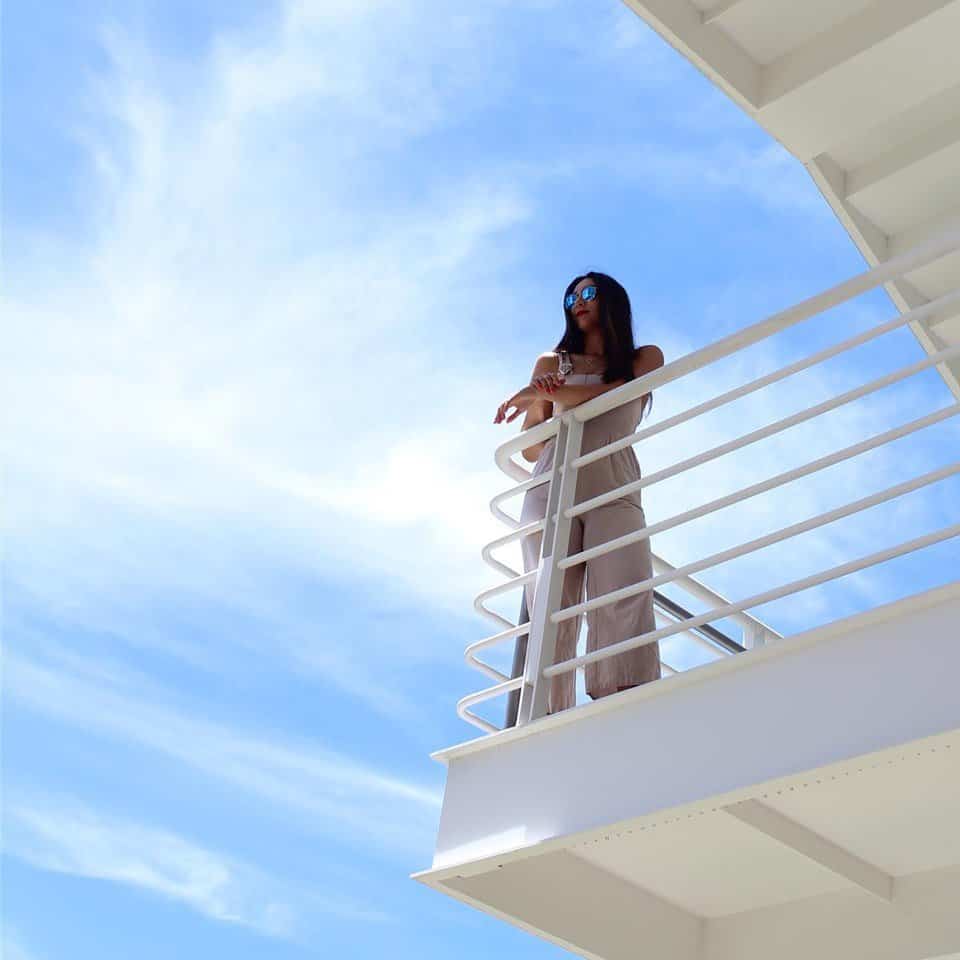 After taking in some history and art, make sure to spend some time at the gardens! The beautiful gardens are a perfect way to unwind and process all the incredible history you've seen.
The Venice Canals in Marina Del Rey
Inspired by the canals in Venice, Italy, Venice Canals are a short walk from Venice Beach. Built in 1905, the canals provide wonderful scenery, a lovely stroll, and beautiful homes to admire.
Los Angeles Touristy Sightseeing
Another must-do free activity is going sightseeing. We hit up Hollywood Walk of Stars basically just to say we did it, but it was actually pretty fun to see our favorite celebrity stars! You may even luck out and catch a Star Ceremony during your visit. 
Rodeo Drive is another great sightseeing opportunity. Keep an eye out for famous people while wandering past all the glitzy designer stores.
Hit the Beach in Los Angeles
Can you really go to California and not hit the beach?! Definitely not, especially for this Alaska girl! Luckily, beaches are everywhere.
A conveniently located beach to visit is Venice Beach, which has tons to do! Relax on the beach for a while, then wander down the Venice Beach Boardwalk to Santa Monica Pier.
Along the way you'll find street performers, live music, and artists. It's quite touristy and can get crowded, but it offers all kinds of people-watching opportunities!
Make sure to bring sunscreen! Since I wasn't technically going to the beach, I forgot to wear it. And I'm now paying for it.
Have you spent time in LA? What are your favorite free things to do in Los Angeles? Share below and pin this for later!