9 Unbelievable Winter Wonderland Destinations in the USA
There are some affiliate links below, but they are all products I highly recommend. For more info, view my disclosure here.
There are two types of travelers: Those who flee the cold temperatures and those who embrace winter wonderlands. I'm definitely one who embraces the cold!
If you're like me, chances are you're currently plotting your next escape to make the most out of the winter months. Ski adventures, snow-capped mountains, and evenings spent cozying up by the fireplace? Sounds just like heaven to us, too.
I'm a Florida girl, but after living in Puerto Rico I needed a change. So we took a chance and moved to Palmer, Alaska! It was a drastic difference from what I was used to, but it made me fall in love with winter, snow, and all the fun that can be had during the colder months.
If you're wondering where to head next this winter, here are some of the best winter destinations in the USA to embrace your inner Elsa!
Vail, Colorado
Vail is probably the most quintessential of winter towns, and while there's plenty to do at this cozy mountain town in Colorado year-round, winter is undoubtedly the most special time of the year to visit this alpine gem.
Tucked underneath the alluring Gore Range, Vail offers pretty much everything you could ask for from a mountain resort, including world-class winter sports, an incredible foodie scene and some of the most luxurious hotels in the country if what you're after is to SEE the snow, but not necessarily feel the cold (staycation, anyone?).
Teller County, Colorado
Okay, so this is more of an entire county than a town, but there's just so much to do and see here! Plus, it's where we just moved to, so I may be a *little* biased. Start in Woodland Park, CO and explore the cute small-town shopping, or hit up the Holiday Market.
After checking out Woodland Park, head to the Wolf and Wildlife Center and howl at the moon with the wolves.
Need a bit of excitement? Take a gorgeous drive over to Cripple Creek, home to over a dozen casinos! Make a donation to the casino, or hopefully win some money to cover a nice dinner!
Park City, Utah
Known for its world-class ski resorts and unbeatable winter sports (think activities like wild snowmobiling, dog sledding, and ice skating), Park City in Utah offers a (mountain) range of things to do that you've got to experience at least once in your life. A walk through this quaint little town will make you feel as though you're wandering inside a real-life snowglobe as you gawk at the century-old buildings and mansions that line the valleys.
Tip: January hosts the town's annual Sundance Film Festival, which is THE place to be if you want the chance to see some of your favorite celebrities (hey, you might even run across them at your hotel!).
Telluride, Colorado
Known for its snowy peaks and scenic beauty that will have your jaw dropping to the ground, Telluride is one of Colorado's most picturesque mountain towns and a must-visit if what you're after is winter outdoor adventures galore.
While in Telluride, don't miss out exploring a few of its hiking trails (make sure to check the weather conditions before you venture in), getting those Instagram vibes on at Hotel Madeline's ice-skating rinks, and sledding down the San Juan Mountains.
If you're up for some serious mountain adventure, you can try your hand at ice climbing (yes, it's a thing!) or venture deep into the mountains in a cross-country ski adventure.
If you'd rather not break a sweat and would much prefer a relaxing vacay (or a combo of adventure and luxury), Telluride's surroundings host plenty of insanely beautiful hot springs where you can relax your muscles after a day of snowy adventures!
Camden, Maine
There's something incredibly charming about New England in winter, and Camden is the king of winter wonderlands in the area. Located on the charming Penobscot Bay, Camden Harbor feels as though it came straight out of a Thomas Kinkade painting.
While visiting, make sure you book a unique ski adventure at Camden Snow Bowl, where you'll get to get your shred on with the views of the ocean backdropping your every move. Another must is to go in search of all the lighthouses in the area, which look as though they came straight out of a fairytale when dusted by white snow!
Ouray, Colorado
Nestled in the San Juan Mountains, Ouray in Colorado is your go-to if you want to feel as though you're walking around in Europe rather than the USA. Popularly dubbed the "Switzerland of America", Ouray is the perfect place to head to for some serious winter-y vibes and that fairytale feeling deep in the mountains.
Aside from its endless array of mountain outdoor adventures (and hot spring galore to relax your muscles in!), Ouray knows how to make the most out of the colder months with events like the Ouray Ice Festival and San Juan Skijoring, both of which celebrate winter sports and the importance they have on this gorgeous little town in the heart of the Colorado mountains.
Yellowstone National Park, Wyoming
Yellowstone National Park is a gem of a place any time of the year, but during the winter months, it becomes a mecca for those in search of a snowy utopia. Think snow-capped landscapes, forests dusted in snow, frozen lakes, and steaming geysers that make the landscapes look out of this world.
Another thing that makes this national park worth the trek? Yellowstone is set right next to Jackson Hole, which means you can combine your visit to the national park with some serious après-ski scene and luxury stays to relax after a day spent adventuring!
Gatlinburg & The Great Smoky Mountains, Tennessee
More popularly known for being the base to explore the Great Smoky Mountains, Gatlinburg in Tennessee has a ton more to offer for those who linger a while at this quintessential mountain town.
Aside from its classic alpine vibes and incredible food scene, Gatlinburg burst to life with several winter festivities such as the Anakeesta's Enchanted Winter festival, where you'll find twinkling lights every step you take and delicious food to help you beat the winter blues.
Once you're done exploring Gatlinburg, head into the Great Smoky Mountains National Park, where you'll find an array of winter sports to choose from and cozy cabins and chalets to experience winter in the middle of nature. Seriously, it doesn't get more magical than waking up and having a hot cup of cocoa in the middle of nowhere!
Palmer, Alaska
This will always hold the top spot in my heart, since we got to spend 4 amazing years there. There is nothing more magical than strolling down the main street in town, wandering from shop to shop with the snow lightly falling. Schedule time to see the reindeer at the Winter Reindeer Farm Experience and hopefully catch a glimpse of the Northern Lights! Here's a handy guide on what to pack for winter in Alaska.
We hope this list of destinations in the USA to spend winter in gives you some inspiration to start planning your next getaway! Whichever town you wind up choosing, you're guaranteed a true adventure. A beautiful, snow-capped adventure you won't soon forget!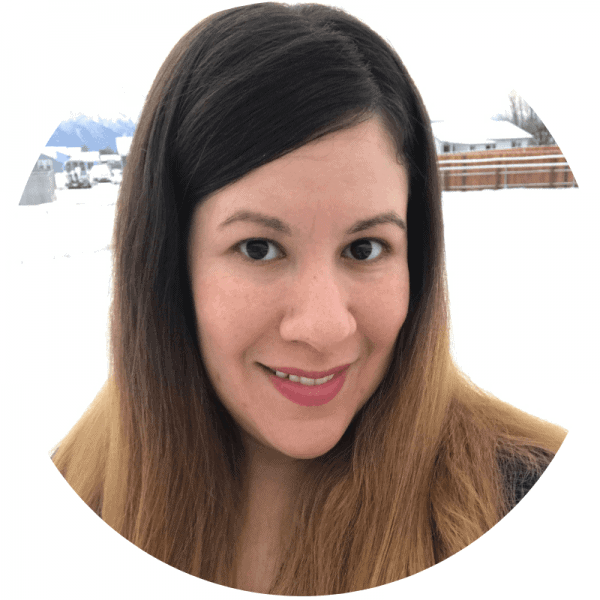 Hi, I'm Natasha!
I'm a lover of yoga, essential oils, and traveling. I've lived in Florida, Puerto Rico, Alaska, and now I live in the mountains of Colorado with my husband Dan and our two pups, Roxy & Rico.