There are some affiliate links below, but they are all products I highly recommend. For more info, view my disclosure here.
Many travelers venture to see Alaska in the height of summer. Who can blame them, with the warm, long days and flowers blooming everywhere! Even though summer is the most popular time to visit, Alaska is a magical place in the winter.
The beauty of winter is incomparable, and the days are short, so we pack in the fun whenever we can.
See why you should visit Alaska in the winter, what activities you should try, and get the ultimate Winter in Alaska packing list!
What the Weather Is Like During Winter in Alaska
In short…it's cold. However, winter weather in Anchorage, Alaska is often warmer than many other places, including Upper New York and Michigan, for example!
The average temperature in Anchorage in the winter is around 26 degrees. That said, it can vary wildly. Last January, it was 49 degrees on my birthday! A few days later, it dropped down to well below zero.
Interior Alaska, where Fairbanks is located, is often much colder in the winter. The mean January temperature is −7.9 °F. It's also been known to get to −40 °F from time to time. OUCH.
Why You Should Visit Alaska in Winter
Besides the beauty and winter fun, visiting Alaska in the winter is a perfect way to vacation while staying on a budget. Flights can be as much as 40% cheaper than they would be during peak summer prices. Hotels and resorts often offer specials during the winter, as well.
What Is There To Do During Winter In Alaska
Living in Alaska, we get out no matter what the weather is like. That means there's always something to participate in and fun to be had! These are some of our favorites. For some examples of what to do in Palmer, Alaska click here!
Go Aurora Borealis Chasing
The aurora borealis, also known as the northern lights, is a bucket list item for many people! It's absolutely breathtaking to see the sky light up in bright green hues. It's virtually impossible to 100% guarantee you'll see the northern lights during your Alaska trip, but there are ways to maximize your chances!
The aurora borealis can typically be seen from September through March. Before and after those times tends to have too much daylight to see it well.
You'll want to keep an eye on geomagnetic activity. There are times when coronal holes cause more geomagnetic activity to reach Earth's atmosphere, which can cause the aurora to be much brighter or more active than typical.
NOAA's Space Weather Prediction Center is one of the best resources for that, but it can be a little confusing to learn. The Aurora Borealis Notifications Facebook group is a fantastic resource for learning the science behind the lights and where to go near your vacation spot.
The more north you go, the better the chance you'll get to see the aurora. Keep in mind, if it's cloudy out, or snowing heavily, the aurora usually can't be seen.
Those clear, calm nights also tend to be the coldest, so make sure you have plenty of sturdy, warm winter gear handy. Plan on lots of coffee to stay up all night if the space weather forecast looks promising!
Sled Tubing in Arctic Valley
Sled tubing is a blast for those that find it difficult to stay upright while skiing or snowboarding. Arctic Valley Ski Area is up through the Chugach Mountain range and has a great sled Tube Park to ride down. It's even good for kids!
Added bonus – Arctic Valley is a great place to spot moose, coyotes, and even the occasional wolf. It's my favorite springtime drive. I mean, check out this adorable baby bear we saw last spring! While they'll be hibernating when you visit, maybe you'll get lucky with some other wildlife sightings!
Iditarod and Fur Rondy Winter Festival
Dog mushing is Alaska's state sport, and the Iditarod is the biggest event of them all. To kick off the Iditarod, there's the amazing Fur Rondy winter festival! This year will be the 84th year of the festival. You'll get to experience the history, native culture, and a wide range of fun activities.
With a vast schedule of events happening daily, everyone will have a blast! Our favorite event is the Open World Championship Sled Dog Races. The Start/Finish line is right in downtown Anchorage, so you'll get to see the dogs get ready to race off and cheer on the teams as they cross the finish line.
In addition to all the events, there's also a carnival. And let me tell ya, you haven't lived until you've ridden a ferris wheel in 10-degree temperatures!
You've seen the Running of The Bulls, right? Well, for a much safer, tamer option, join in the Running of the Reindeer! It's a fundraiser for Toys for Tots where you join teams and try to outrun reindeer!
Williams Reindeer Farm in Palmer
Speaking of reindeer, The Williams Reindeer Farm is THE place to see them. Located in Palmer, about an hour northeast of Anchorage, the reindeer farm offers tours with reservations during the winter season. You'll get to pet and even feed reindeer! It's an amazing experience, and they're such gentle creatures.
In addition, they have Santa Tours before Christmas, where Santa stops by for a visit. If you're in town for Christmas, then Christmas On The Farm is not to be missed. With reindeer sled rides, indoor snowball fights, and arts & crafts, it's a blast!
The teams from the Reindeer Farm also pop up at events throughout the Southcentral Alaska area (which includes Anchorage and Palmer) so keep an eye on their Facebook page to stay updated!
Chena Hot Springs
Pack a bathing suit if you're heading up to Chena Hot Springs, 60 miles northeast of Fairbanks. Lounge in the 106-degree thermal hot springs and relax your stress away. On extremely chilly nights, dip under the water and watch your hair and eyelashes frost over once you come up.
There are plenty of events to keep you occupied when you're not soaking in the springs. Play with sled dogs, or see the Ice Museum and have a green appletini in an ice martini glass.
On clear nights, Chena is a great place to see the northern lights. Oh, and their boozy Winter Warmers drinks are super yummy and will warm you up after playing in the snow.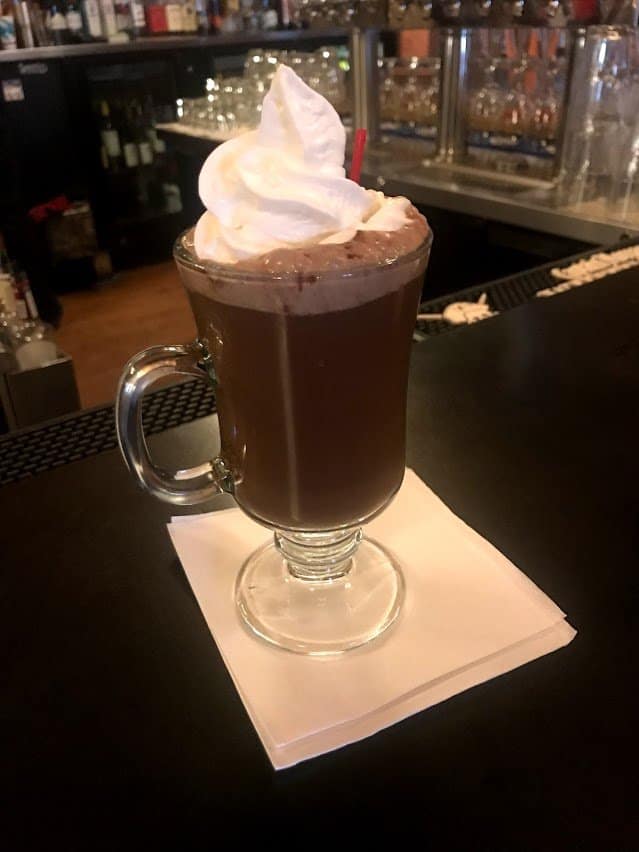 But First…Coffee!
One thing Alaskans don't mess around with is coffee consumption! Alaska ranks among the highest coffee shops per capita in the US.
Whenever you're driving around, you'll notice all the cute little coffee kiosks, some with adorably clever names. Everyone has their shop they insist is the best (ours is Palmer Coffee Co.) so give them a shot and find your favorite!
Are you planning a winter trip to Alaska? Let me know below!