The Best Carry-on Luggage to Fit Under Airplane Seats
There are some affiliate links below, but they are all products I highly recommend. For more info, view my disclosure here.
I recently treated myself to a new underseat carry-on bag. I gotta say, it has changed the way I travel! During past trips, I'd use a cute backpack with just enough room for my laptop, blanket, and snacks for onboard the plane.
It was SUCH a headache setting it down and rummaging through it to pull out the laptop to get through security, though!
Plus, my shoulders would get terribly sore after carrying it through the airport. Being achy before your journey even begins is the worst way to start a vacation!
I was thinking there had to be a better option for me to bring the essentials onboard the plane without stressing my back and shoulders so much.
Apparently, Facebook was listening because the next thing I knew, I was getting suggested underseater luggage in my newsfeed.
The targeted marketing totally worked, though, because I started actively researching and purchased one! Read on for a list of the best underseater luggage and see which one I chose!
ZEGUR Quilted Rolling Underseat Carry-On Luggage 
The ZEGUR Quilted Rolling Underseat is a compact carry-on at 14" length and height, and only 9" wide. It has room for a laptop and plenty of other travel essentials.
My favorite feature is that the interior pockets are lined with plastic. It makes cleaning up spills and messes super easy!
The quilting adds a nice bit of texture to a traditionally kind of boring item. A sleeve in the back allows it to slide easily over your main piece of luggage.
The smaller size is convenient for hustling through the airport when trying to catch a close connecting flight.
Travelpro Luggage Maxlite 5 15″ Lightweight Carry-on Rolling Under Seat Bag
I was really digging the look of this Travelpro Maxlite Under Seat, especially in the light blue color!
It has a laptop sleeve, which is essential for me as I always bring my laptop to get some work done and be able to handle any issues that may pop up.
I also really liked the hanging wet pocket for bathing suits and toiletries!
This one only has 2 front wheels, though, which aren't quite as effortless to maneuver as spinner wheels are. Many people love the inline wheels, so it may be a good fit for you, though!
Delsey Quilted Rolling Underseat Bag
This Delsey Underseat luggage has a ton of positive reviews on Amazon, so it was a strong contender for best underseat luggage even though it doesn't have room for a laptop. I love the plastic lined side pockets, which help keep messes to a minimum and are easy to clean.
It also has a side sleeve for water bottles! Since water isn't allowed through security, I always bring a reusable bottle like this one with me and fill it up after clearing the TSA checkpoint.
The side sleeve is super convenient for staying hydrated while wheeling around the airport!
Here are some more helpful ways to travel with ZERO liquids in your carry-on bag!
AmazonBasics Under Seat Luggage
Amazon has been making some pretty nice branded items lately, and this underseat bag is no exception! While it's pretty low-frills, it definitely gets the job done for bringing your essentials onboard the plane.
The front pocket is perfect for organizing your personal documents. The interior pockets contain small items nicely, and the telescoping handle
This one doesn't have a laptop sleeve, so if that's a must-have for you, skip this one and check out the Samsonite below!
Amazon Basics Underseat Carry-On Rolling Travel Luggage Bag, 14 Inches, Navy Blue$60.99Rated 4.6 out of 5 by 5741 reviewers on Amazon.comBuy Now
Samsonite Underseater with Spinner Wheels
I've been a fan of Samsonite for years, after I discovered their Mightlight line of luggage.
I've brought my Mightlight 25 across the country, on multiple cruises, and even all the way to Bali without issue. It's still looking just as pretty and sturdy as it did for that first trip.
When I was doing my hunt for the best underseat travel bag, I came across this Samsonite underseater with spinner wheels. If you haven't had a bag with spinner wheels yet, let me tell you, they are a game changer! 
I decided this one was the best carry on bag for my needs and bought it!
It's so much easier to roll through the airport with 4 spinner wheels than with 2 fixed wheels because you don't have to drag it behind you, it glides easily next to you while walking.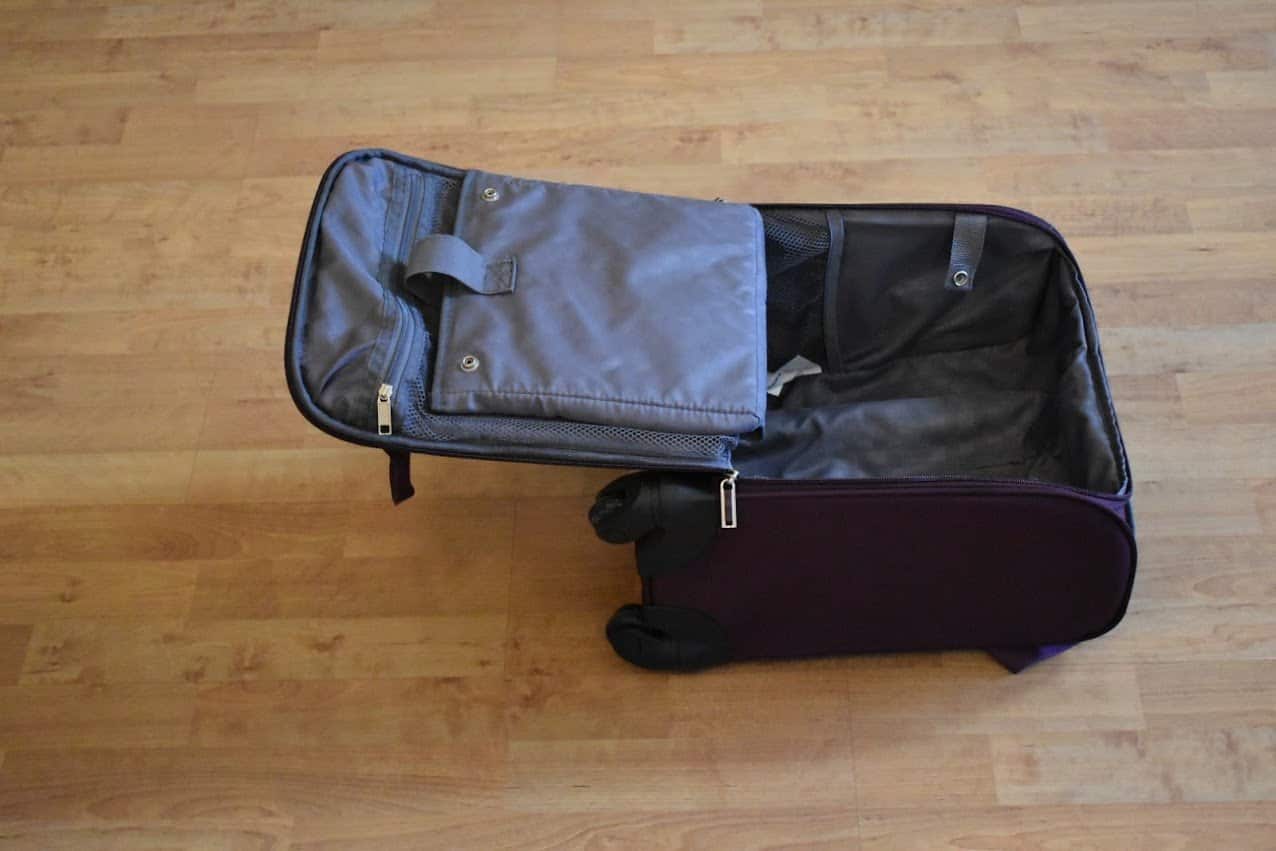 Another perk of the Samsonite is the padded laptop sleeve. I have a Dell XPS13 (Best. Laptop. Ever.) and while it fit okay in my backpack, it's a much better fit in the Samsonite. The padded laptop sleeve will keep your laptop safe and secure.
It also has a velcro strap to keep it in place. The snaps on the side keeps your laptop from falling out when the front of the bag is open. It was so easy to open it and pull out the laptop to place in the bin for TSA!
I recently decided to get TSA Precheck, I was randomly selected to have my belongings doublechecked. The TSA agent actually complimented me on the organization of this bag!
The USB port was an interesting feature, as well. I've seen that luggage with included battery packs can have issues getting through security.
This one doesn't come with a battery pack, so you can use your own and leave it unplugged when going through security. I've had this high-capacity charge pack from Anker for years and love it!
I had no issues getting through security when I traveled recently. Plus, it was super convenient to plug into the USB port whenever I needed to charge my phone while we were traveling.
Wheeling this onto the plane was super easy with the spinner wheels! The biggest drawback to this one is the size. It's just at the maximum size to fit under the seat in front of you.
That makes it a little hard to maneuver so it slides under the seat, given how close the seats in front of you are. It also restricts leg room a bit as it's fairly wide. Another downside is that it doesn't actually fit under the window seats on United planes. I'm still super happy I chose that one, though!
Samsonite Spinner Underseater with USB Port, Rolling Carry-On With Laptop Pocket – Fits 14.2 Inch Laptop -…$128.99Rated 4.3 out of 5 by 116 reviewers on Amazon.comBuy Now
Kemyer Computer Underseater and Tote (2 Piece)
This Kemyer underseater was actually my runner-up underseat carry on, as the luggage appeared really nice, and I love the idea of the included tote bag! The underseat bag has a padded laptop sleeve that fits up to 16" screens.
It comes in some gorgeous colors, including a wild leopard-print pattern for the more adventurous traveler. It's such a fun, cute set!
What's your go-to bag for carrying items you'll need mid-flight? Share with us below!