Make the Most of a Day in Seattle After A Cruise
There are some affiliate links below, but they are all products I highly recommend. For more info, view my disclosure here.
Seattle is one of the biggest cruise ports for embarking on an Alaskan cruise. If you have a late flight out of Seattle after cruising, it can be overwhelming to plan the short amount of time wisely and hit all the best things to do in Seattle.
Don't worry, I got you covered! Here's our tips and suggestions on how to spend a day in Seattle.
We recently did an Alaskan cruise that disembarked in Seattle. My parents were traveling with us, and their flight was leaving at 8pm.
We got off the ship at 9:30am, so that left us with a full day to explore Seattle. I knew I didn't want to be wandering around aimlessly, wondering what to do in Seattle today. I know you don't either! We definitely made the most out of a day in Seattle, and you can too!
Let Seattle Port Valet Handle Your Luggage
If you disembark in Seattle after a cruise, you definitely need to check out Seattle's Port Valet program. It's a complimentary luggage transfer from the cruise ship to these participating airlines.
Alaska
American
Delta
Horizon
JetBlue
Southwest
United
We cruised on Princess and flew on Alaska Airlines, plus our flight was leaving after 11am, so we were able to use this service. Not every ship or flight will qualify, but it's a great benefit for the ones that do.
How To Enroll In The Port Valet Program
I highly recommend doing your research well in advance. You can check out details here. There is a limited window to get your completed enrollment form to Guest Services onboard your ship.
Ours was due on the 3rd day of the cruise, and if it's not turned in by the deadline, they don't seem to make exceptions. It's easy to miss the application when it's delivered among all the other daily papers, so keep an eye out for it.
You can instead stop by Guest Services on day 2 and ask for the form to ensure you don't miss out. There is also a spot on the application to add a reason you shouldn't be charged baggage fees.
If you are a member of a reward program or have an airline credit card, this is where you put the membership number or reason. We have the Alaska Airlines credit card, so we noted that information and weren't charged baggage fees.
If you are accepted to participate in the Port Valet program, your room steward will deliver the luggage tags the night before disembarking. You'll place the tags on your bags and set it out in front of your room to be picked up.
Then you'll see it at your home airport! I admit, I was a little wary when putting my bags out the night before we left the ship, but the program worked flawlessly. Our bags were right there at baggage claim when we got back to our home airport in Anchorage!
Ensure you have all personal documents in your carry-on bag, and set aside clothes for the next day. No one wants to leave the ship in their pajamas.
The added benefit is using Port Valet is not having cumbersome luggage to wheel around. That allowed us to save even more money on our trip by not having to take a taxi or Uber to the airport.
After spending the day downtown, we headed to the nearest Link light rail station and purchased one-way tickets to the airport. A relaxing 45 minutes later, we arrived at the airport and were ready to head through security with just our carry-on.
What To Do With Luggage In Seattle
If your cruise line isn't participating in the Port Valet program, the next best option is to look for a place you can store luggage in Seattle. SmartCarte offers baggage storage at the airport, but that may not be ideal as you'd have to take your bags there first, then head back downtown.
If you stayed at a hotel prior to your cruise, it can't hurt to ask them if baggage storage post-cruise is a service they offer. If not, BagBnb looks like a helpful guide to luggage storage.
They partner with local businesses that are willing to store your bags for the day. They have a few places in downtown Seattle, so you can pick a spot near where you'll be spending your day.
Start Your Day Exploring Pike Place Market
After getting off the cruise ship, there are taxis lined up to take you wherever you want to go. Grab a taxi downtown to Pike Place Market. It's best to start here as it gets extremely crowded as the day goes on.
Spend time wandering the market and smell the amazingly beautiful flower bouquets. Seriously, if we lived near here, we'd have to get one at least weekly! They're incredibly gorgeous, and so affordable.
There are so many lovely little shops and eateries here, so you can pick up snacks to sample. You can also head over to check out the Insta-worthy Gum Wall.
A visit to Pike Place Market isn't complete without a stop by the fishmonger stand to watch their famous fish throw. It's right by the entrance under the famous Public Market Center sign.
At this point, we were starting to get hungry and were craving some comfort food of nice, warm clam chowder from Pike Place Chowder. Apparently, it was a popular choice, as the line for clam chowder was literally wrapped around the building!
We didn't let that stop us, and discovered a little-known travel hack. Inside, there's a little window for Grab & Go online order pickup. WITH NO WAIT. What?!
That meant we were able to grab my phone, head online to their website here, and select Order For Now. I then walked over to the window and picked it right up. No waiting in line, and we were sitting and enjoying yummy, cozy clam chowder in a bread bowl (my addiction!) in no time!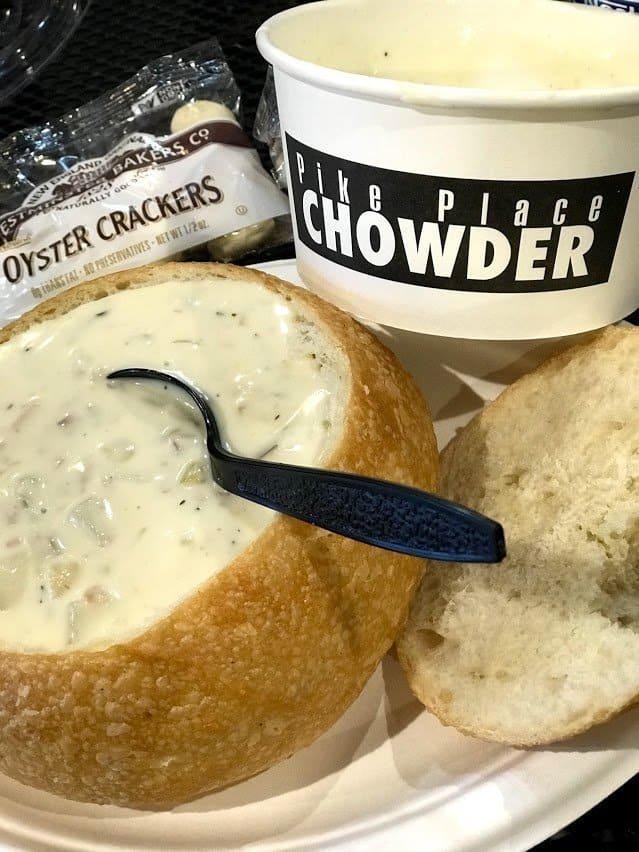 Save On Attractions with Seattle CityPASS
If you're planning to hit up a bunch of touristy spots, save money on attractions by getting the Seattle CityPASS. It allows you to visit these 5 attractions over a period of 9 days. That makes it perfect for cruises that leave and return to Seattle, because you can visit a few before your trip and the rest after the cruise.
Space Needle
Seattle Aquarium
Argosy Cruises Harbor Tour
Museum of Pop Culture (MoPOP) OR Woodland Park Zoo
Chihuly Garden and Glass OR Pacific Science Center
Save 50% or more on Seattle's 5 best attractions with CityPASS. Shop Now!
Hit the Tourist Spots In Seattle
If you haven't been to Seattle before, the Space Needle is a must-see. Sure, it's touristy, but at the height of over 500 feet, the views are breathtaking. We did the Space Needle and Chihuly Garden & Glass combo, which I highly recommend.
We were originally just going to do the Space Needle, but there was a 90-minute wait to enter since we walked up to buy tickets. You can avoid this by pre-purchasing the tickets online here.
Since the Space Needle and Chihuly Garden & Glass combo was only a little extra ($49 per adult) over the regular price of just the Space Needle ($37.50 per person) we decided to go for it. It worked out perfectly since we had some time to kill. Plus, it ended up being one of the most memorable parts of our trip!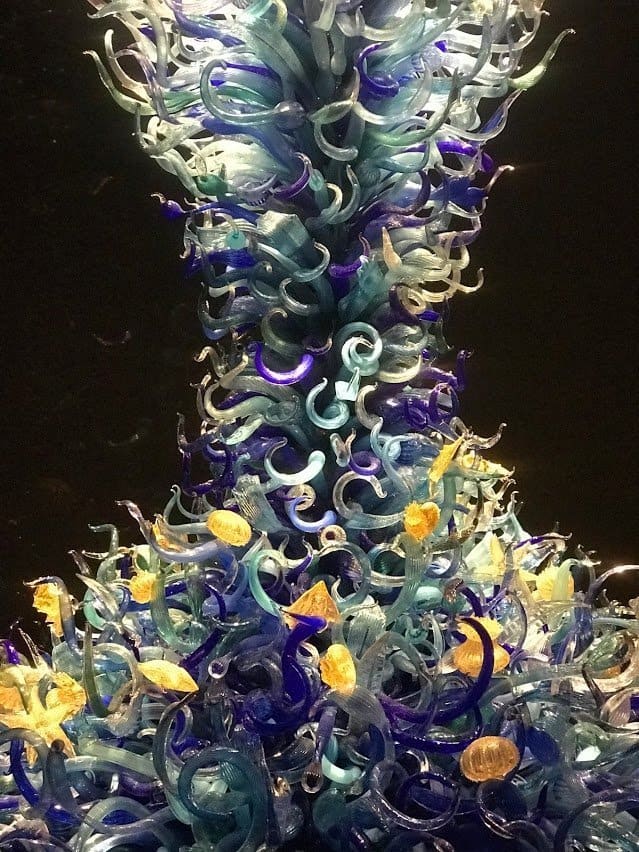 The gardens were absolutely beautiful and Chihuly's sculptures are so very vibrant. The Glasshouse structure is gorgeous and not to be missed. Once through the inner portion, we entered the garden.
It's filled to the brim with gorgeous glass sculptures, plants, and flowers. We joked that "The Sun" art installation was a real-life depiction of my mom's curly hair!
After finishing in the garden, we headed to the Space Needle. It's undergoing a multi-year remodeling project, and a new glass referred to as The Loupe floor was installed a few weeks before our visit. It was so trippy to stand on it and see the world go by underneath our feet.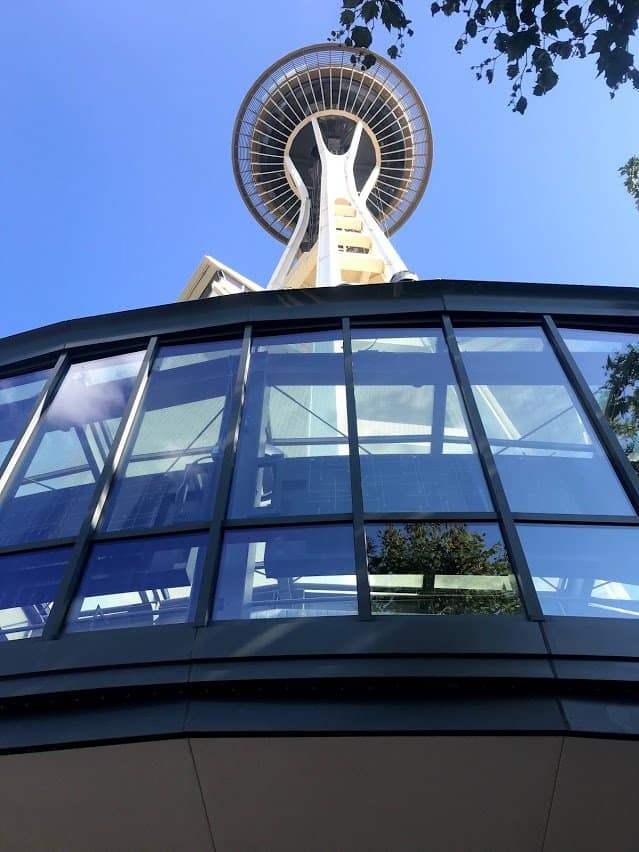 How To Get To The Space Needle
The Space Needle and Chihuly Garden and Glass are very easy to get to from downtown. Head over to the Westlake Center at 5th and Pine Street, and take the monorail to Seattle Center, which is right near the Space Needle. The monorail departs downtown to Seattle Center every 10 minutes.
Haven't booked your cruise yet, but want to save money when you do? Here's how to save on cruises with Rakuten, and actually get your cash back!
Swing by Chinatown-International District
If you have some time left before you head to the airport, take the Link Light Rail to Chinatown-International District and head to Uwajimaya. There are so many amazing food options inside this Asian market.
One of my absolute favorite fruits is mangosteen. I was introduced to it when traveling in Bali, and instantly fell in love. Sadly, I'd been unable to find it since, until I came across some in Uwajimaya.
I was so excited I could finally have my family try this fruit I'd been raving about for years. Oh, and don't miss the chance to stock up on unique Asian candies for the flight home!
Do you have a must-see spot on your Seattle list? Share below!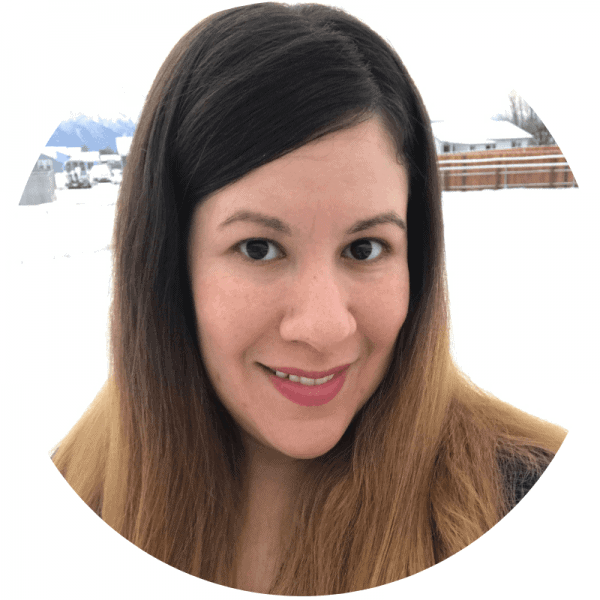 Hi, I'm Natasha!
I'm a lover of yoga, essential oils, and traveling. I've lived in Florida, Puerto Rico, Alaska, and now I live in the mountains of Colorado with my husband Dan and our two pups, Roxy & Rico.