Fabulous Gift Inspiration for the Traveler in Your Life
There are some affiliate links below, but they are all products I highly recommend. For more info, view my disclosure here.
It can be a major source of stress when it comes to picking perfect gifts for people who love to travel. What present should you get for the person who is always on trips and visiting new cities?
From practical presents to extravagant surprises, we've got you covered on unique gifts for travelers. Read on for our top traveler gift inspiration ideas!
eBags Packing Cubes and Toiletry Kit
When it came to packing cubes, the idea seemed a little…off. I need to buy extra things to put my clothes in my luggage? I'd been putting everything directly in it for years, why change that now?
Until I got my first set of eBags packing cubes. I honestly don't know how I lived so long without them! They make life SO much easier when it comes to organizing for trips, and while away.
Packing cubes let you organize your items into smaller groups, so you aren't having to shake apart the entire contents of your baggage just to pull out a pair of shorts.
They allow for a bit of privacy without the entire contents being rearranged if your bag is selected for a security screening.
Once you arrive at your destination, the packing cubes make it drastically easier to unpack for the duration of your stay, if you're into that sort of thing!
I used to live out of my suitcase and would only unpack for extended trips. After I got these, I realized how simple it is to set the cubes in drawers and be done with unpacking super fast.
eBags also makes a toiletry kit that lays flat. It holds a surprising amount of toiletries, and has a hanger to keep it out of the way when needed. To make this one of the best travel gifts for her, personalize it by filling it with your loved one's favorite travel-sized toiletries.
Bose QuietComfort 35 Noise Cancelling Wireless Headphones
One overnight flight on our way to visit family in Florida, we had two very chatty passengers directly behind us. I had brought earplugs, but they didn't mask the noise from their conversation.
By the end of the flight, everyone in our surrounding rows knew everything from their kids' names down to the color of their new car. I also knew I HAD to invest in noise-cancelling headphones ASAP!
The Bose QuietComfort 35 headphones are widely regarded as one of the best. With three levels of noise cancellation, it delivers a wonderful experience in any environment.
It's got the ability to last during long-haul flights with up to 20 hours of wireless play time from the rechargeable battery. Even better, it gets up to 40 hours of listening in the wired mode.
Backup Battery Pack
A backup battery pack is a must for any trip, and makes a wonderful gift for the one who takes tons of pics for the 'gram! You can choose a portable, lightweight battery that will recharge their phone once or twice.
If they're heading on a long trip, a heavier duty one might be a better option. This Anker one can recharge an iPhone 7 almost seven times! Side note: it's also helpful to keep on hand for winter, during storm-related power outages.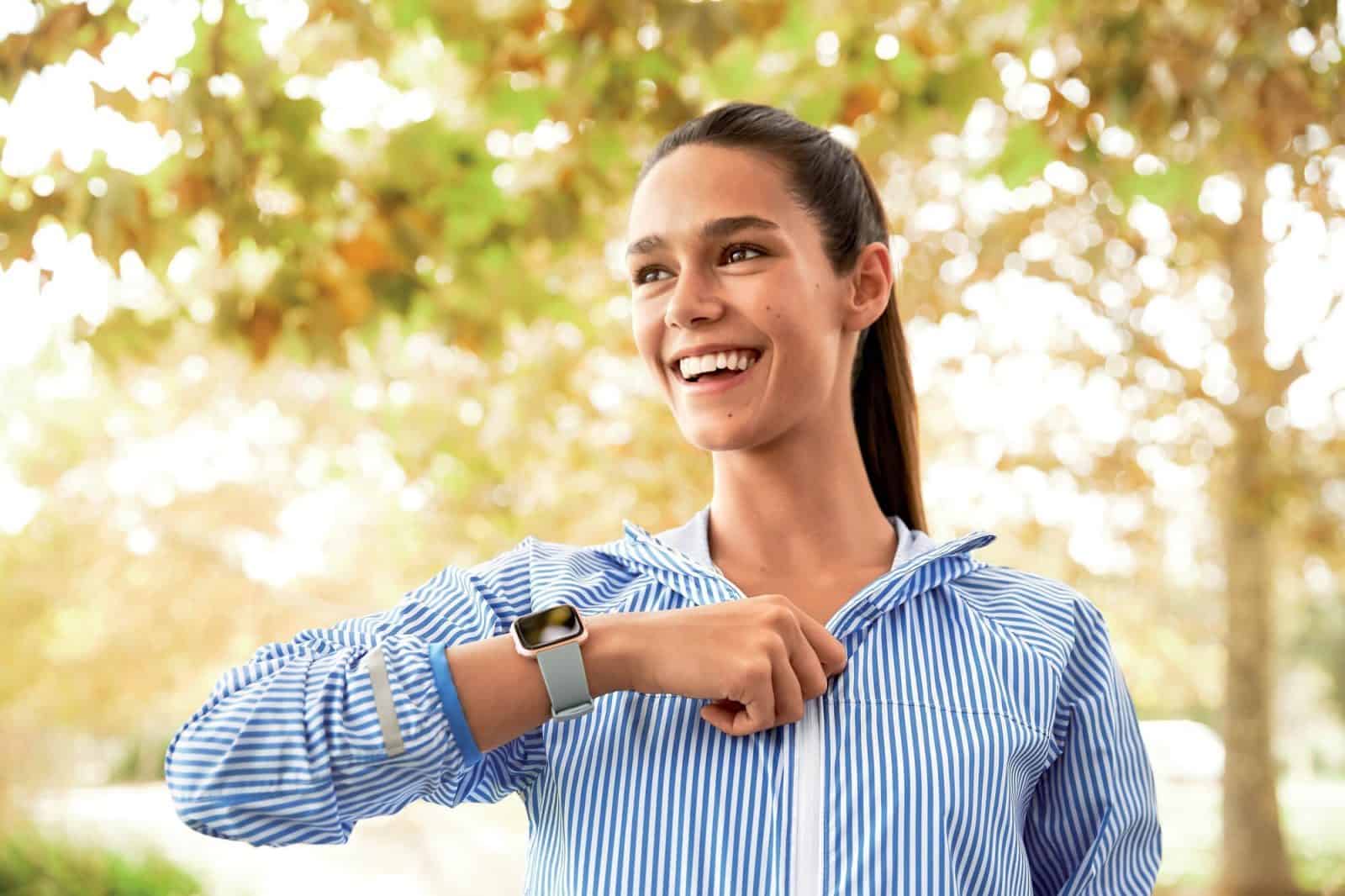 Fitbit Versa
Fitbit Versa makes for a fantastic gift for the techy traveler! It stores over 300 songs, so they can listen to tunes while hiking new locations. They can keep track of all the activity they're racking up while traveling, and ensure they get quality sleep.
The Relax breathing session will come in handy after yet another gate change or while on a stressful flight. Even better, it's waterproof, so they can wear it while surfing or swimming in the ocean.
Universal Travel Adapter
If you're looking for gifts for someone traveling abroad, a universal travel adapter is a must-have travel item. This one has international compatibility with US/UK/EU/AUS plugs. It also has 4 USB ports to charge up all their devices.
Kindle Paperwhite
For many people, reading is one of the best ways to pass the time on a long flight. While there's nothing like the smell and feel of a good book, they're pretty cumbersome to bring on a flight. Plus, if it's an overnight flight you may not want to have the reading light on.
The Kindle Paperwhite is perfect for traveling since it's super lightweight and holds an almost endless amount of books. The glare-free screen is perfect for flights and is easy to see even in direct sunlight.
The all-new Paperwhite is waterproof, making it a great addition to a beach bag. The battery lasts for up to SIX weeks on a single charge.
Saje Pocket Farmacy Essential Oil Blend Set
I'm a huge fan of essential oils, especially for staying healthy when traveling. This Saje Pocket Farmacy has everything your loved one needs for their trip.
Roll on Peppermint Halo to soothe your head, Stress Release to relax, Pain Release to relieve minor aches and pains, Gutzy to comfort the stomach and Fortify to relieve cough and cold symptoms.
Aeropress Coffee Maker
Coffee is life, right? Treat the coffee lover in your life to full-flavored coffee without bitterness with an Aeropress coffee and espresso maker. It's lightweight, compact, and durable. Plus, it doesn't use any electricity. As a result, it's ideal for camping, backpacking, or even while on a cruise. As long as they can heat up water, the Aeropress can make fantastic coffee.
A Travel Mug
A reusable travel mug is a perfect complement to the Aeropress mentioned above. I like to bring one in my carry-on, along with a bag or two of my favorite herbal tea. It helps keep me warm on chilly flights, and soothes those travel jitters. Pair it with a lovely tea assortment for a cozy, warm present.
Luggage Scale
Baggage fees have been getting ridiculously expensive lately, haven't they? It's frustrating to get to the airport for a flight, only to realize the luggage is over the allowed weight. Having to shuffle things over to your carry-on in the middle of the airport is a pain.
All that can be avoided with a handy portable luggage scale. I keep it in my bag at all times and check periodically through the trip to make sure they're not bringing too many souvenirs home.
Air Plane Travel Beer Bottle Opener
Planning a surprise trip for the one you love? Give them a little teaser with this adorable airplane bottle opener! It's the cutest, and for years after the trip, they can reminisce every time it's used to pop open a bottle.
Are you a travel-loving explorer? What's on your wish list? Share in the comments below!